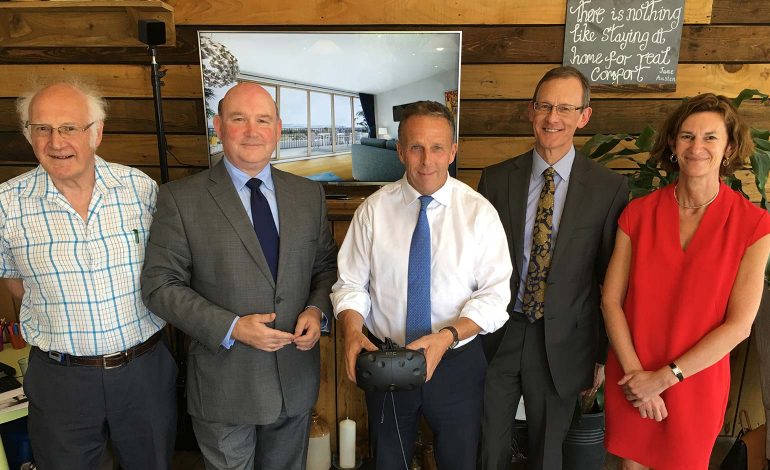 Locals invited to take virtual reality peek inside Keynsham riverside homes
Local residents are being given the opportunity to take a virtual reality peek inside one of the 95 new apartments being built on the site of B&NES Council's former Riverside offices in Keynsham.
The "Riverside View" redevelopment of the empty council building on Temple Street will deliver new homes and continue the regeneration of Keynsham town centre.
Members of the public can have a look at the virtual show apartment by using a virtual reality headset at the offices of Gregory's Estate Agents, on Market Walk, where they can also register their interest in the development.
The launch of the virtual show apartment highlights the progress being made with the first major development for Aequus, the new property company wholly owned by Bath & North East Somerset Council, which features a mix of 95 contemporary studio, 1 and 2-bedroom apartments.
Councillor Tim Warren, Leader of Bath & North East Somerset Council, said: "This development delivers fantastic opportunities to support Keynsham's regeneration, alongside Market Place, the Chocolate Quarter and other local developments in the town.
"As well as providing much needed housing by redeveloping this empty building – and reducing the need to further encroach on the green belt – all the profits will go straight back into supporting and protecting the Council's front-line services.
"I'm also pleased to say that Aequus, the Council and one of our housing association partners are in discussions around the delivery of some shared ownership apartments, and Aequus are considering what other housing options there may be to support local residents at Riverside."
Aequus is working with a range of local companies to market the Riverside View development; including Gregory's Estate Agents, marketing and branding experts Bopgun, and virtual reality and interactive media specialists Whiley & Blake.
Councillor Charles Gerrish, Chair of Aequus Construction, said: "We are pleased to be moving ahead with this development, working with Bath & North East Somerset Council, to deliver 95 apartments here in Keynsham; regenerating the old council office building to further enhance this area of the town.
"As well as our virtual show apartment we have also launched our marketing website to keep everyone informed of the development progress.
"We will be formally releasing the first phase of apartments for sale in the new year and completing the first units in the spring, but this marks an exciting opportunity for anyone interested, to register their interest in this fantastic new development."
West of England Regional Mayor, Tim Bowles, said: "This is a great example of how, by working together and being innovative, we can provide more homes for our residents. We know that we need more homes, to buy and rent – homes where they are needed at prices people can afford.
"The West of England Combined Authority has already secured millions in additional Government funding to speed up building new homes across the region.
"We're working with Bath & North East Somerset Council, our other constituent councils and our housing associations, to deliver more affordable homes, in particular. Working together, we must make sure we're building well-connected communities, not just houses.
"We want to ensure homes have great transport links to employment and educational opportunities, the right community services such as schools, and fast broadband."